Prep: 20 mins – Cook: 40 mins – Total: 60 mins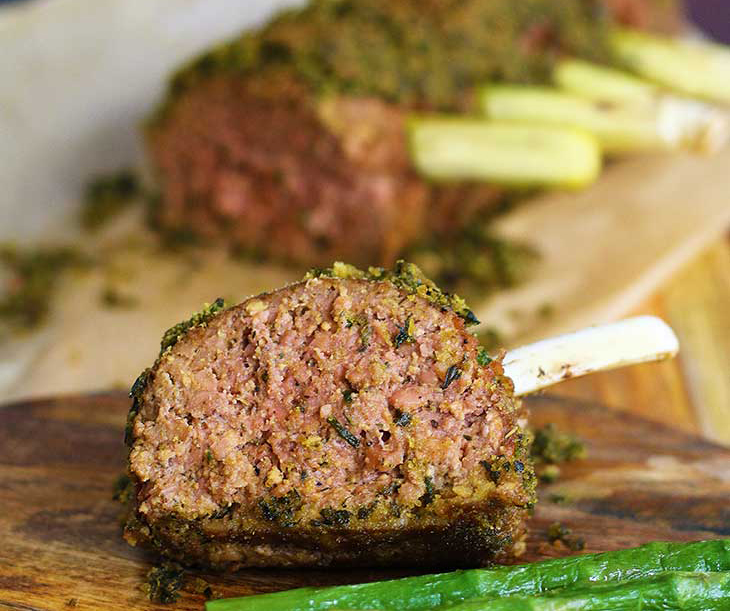 Ingredients
Vegan Rack of Lamb:
200g (7 oz) corn pasta, any kind
600g (21 oz) smoked tofu
1 Tbsp carob powder
3 garlic cloves, minced
100ml (3.3 oz) fresh beetroot juice
4 Tbsps psyllium husks
1 Tbsp olive oil for frying + 1 Tbsp olive oil for brushing
SPICE BLEND:
1 ½ tsp thyme
3 tsp sweet paprika, If you can't find smoked tofu, use smoked paprika
½ tsp black pepper, ground
1 ½ tsp rosemary, ground
3 tsp garlic powder
sea salt, to taste
HERB CRUST:
3 Tbsps chives, chopped
3 Tbsps mint, chopped
3 Tbsps fresh thyme, chopped
4 Tbsps breadcrumbs , use GF breadcrumbs if you want to keep it GF
2 Tbsps olive oil
SAUCE:
200ml (¾ cup) natural soy yogurt, I used Joya Natural
1 Tbsp green peppercorns, canned
1 garlic clove, minced
1 Tbsp mustard
"BONES":
1-2 leeks, white part only (or scallions, white part only)
½ Tbsp soy sauce
½ tsp carob powder
Instructions
Boil pasta for 15 minutes. Turn off the heat and let it get mushy and sticky inside the pot.
Add the smoked tofu cubes in a large bowl.
Add the sticky, boiled corn pasta. Using an immersion blender, start blending the ingredients to turn them into a paste.
Add the minced garlic cloves, carob powder, spice blend and blend some more.
Add the beetroot juice and psyllium husks. Mix well by hand.
Place a sheet of cling film over a chopping board. Add the lamb "meat" paste and then place another sheet of cling film on top. Close it at the margins.
Start giving it a cylindrical shape. Place it in the fridge for at least 30 minutes.
Chop the herbs. Add them to a bowl and mix them with breadcrumbs and olive oil. Set aside.
Heat one tablespoon of olive oil in a large pan.
Remove the cling film from the "meat" roast and carefully place it inside the pan. Let it fry for 2-3 minutes on each side, until crispy. Carefully turn it on all sides so it will be nice and crispy all over. Turn off the heat and let it cool a bit. Cover an oven dish with some parchment paper.
Carefully move the "meat" roast from the pan to the oven dish. Brush it with some olive oil on the top part and on the sides.
Using your hands, start covering it with the herbs mix. Press it gently. It will stick.
Cook in the preheated oven at 200C for 30 minutes.
Cut the white part of some scallions and leeks to make the "bones". Place them on a small plate. Drizzle some soy sauce on top and sprinkle them with some carob powder. Brush them.
Once the vegan lamb rack is ready, take it out of the oven and add the leek "bones". I simply inserted them into the roast.
Serve with a sauce made by mixing natural soy yogurt with mustard, minced garlic clove, and green peppercorns.
Enjoy!
This delicious recipe and photos were created by Gourmandelle.com, we simply shared it! Check them out for more great ideas!